The sanitation portion of your pool equipment kills the bacteria and organisms you can't see. The traditional means of sanitation is to use chlorine in your pool. Performance Pool & Spa uses standard chlorine in all of our pools as a standard rule of thumb. Chlorine has been around for years and is even used to treat your municipal water supply.
In-line Chlorinators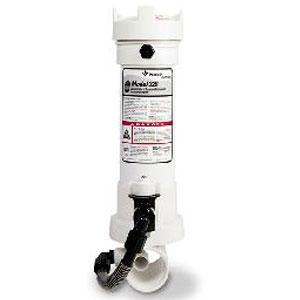 Classic sanitation is done by putting chlorine into your swimming pool to kill all the "bad stuff". Pentair's Automatic Chlorinator is a simple way to add chlorine to your pool. You simply add 3 tablets in the top of the cylinder for constant chlorine feeding, no need for the "floating duck". The chlorinator mounts on the return line immediately after the pool heater.
Delta UV Sanitation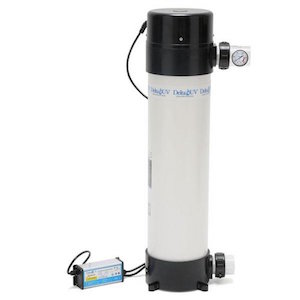 Price – $890
How Ultraviolet (UV) Sanitation Works
The pool water circulates through our Delta UV sanitation that uses the TYPE C UV rays to completely purify water, deactivating all the dangerous micro-organisms. This results in the cleanest and purest water possible for your pool. A small residual of chemicals are used in order to destroy any micro-organism that do not find their way into the UV sanitation.
Adding a Delta UV sanitation to your pool or spa will provide 99.99% contaminant-free water while reducing the use of chemicals. Delta UV units deactivate bacteria, germs, viruses, and algae including the chlorine-resistant protozoan parasites; cryptosporidium and giardia.Benefits of a UV Sanitation System
No chlorine smell
No more red eyes, dry skin or damaged hair
Easier pool maintenance
Prolongs pool life – won't erode pool surface or equipment
Environmentally friendly
Compatible with all types of coatings and filters
Can be automated with an existing chlorinator
Salt Water Chlorine Generator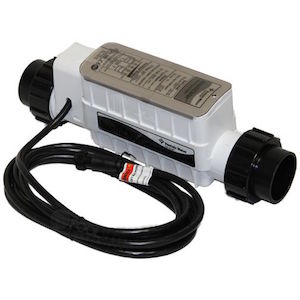 Pentair IntelliChlor – $1,199
Salt water swimming pools are becoming more and more popular as the price of these units are now affordable. IntelliChlor® Salt Water Chlorinator uses common table salt to produce all the chlorine a pool needs, safely, effectively, and automatically. IntelliChlor® has the same sanitation performance as manual chlorine addition, without all the drawbacks. Customers don't need to buy, transport, and store chlorine compounds at their home any longer.Benefits of a Saltwater Sanitation System
No more red eyes
No more faded swimming trunks or suits
No chlorine smell
No bleached hair
No dried skin or irritation
NO NEED TO PURCHASE CHLORINE
Less monthly chemical maintenance