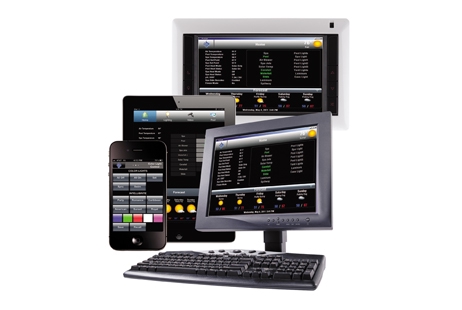 Automation systems are a great way to control all of your pool equipment at one spot. Why turn things on and off manually when you set a program once to take care of it all? Performance Pool & Spa recommends and uses Pentair's EasyTouch automation system to control all the electrical around the pool. The EasyTouch system is a sub-panel that synchronizes equipment scheduling. By using an automation system the price to run your pool equipment, you can reduce your electrical bill by over $400!
Benefits and Advantages of Pentair's EasyTouch Automation System
All functions controlled with easy, one-button access from the self-contained load center or optional controllers. No need to memorize operating sequences, open and close valves, or reset time clocks and thermostats.
Optional controllers for added convenience: Indoor control panel (for 4 or 8 circuit systems), a wireless controller (for 4 or 8 circuit systems), a QuickTouch® 4-function wireless remote, a Four-function spa-side remote, a 4-button spa side remote, and iS10 spa-side remote.
Built-in diagnostics include automatic verification of the display, microprocessor, switches, indicators, relay outputs, valve outputs, sensor inputs, and communication ports as well as a diagnostic screen that reports failures for troubleshooting and repair purposes.
Includes 125 Amp Breaker Base.
UL and CUL approved.
New EasyTouch Features
Pentair Easy Touch Automation
ThermalFlo heat pump integration.
Support for 2 VS or 2 VF Pumps.
Supports 8 Feature circuits.
MagicStream Laminar support.
Control Panel Lockout.
IntelliBrite pool and spa light support.
iS10 spa-side remote support and control of IntelliFlo Pump.
Pool Control Only
Easy Touch P-4 – $999
Easy Touch P-4 with Salt Cell (20,000 Gallons) – $1,499
Easy Touch P-4 with Salt Cell (40,000 Gallons) – $1,700 [BEST BUY, MOST POPULAR]
Pool & Spa Control
Easy Touch PS-4 – $1,399
Easy Touch PS-4 with Salt Cell (20,000 Gallons) – $1,899
Easy Touch PS-4 with Salt Cell (40,000 Gallons) – $2,100
Screen Logic Adapter to Control Automation System from any Smart Phone or Device $799
Actuators to Control Valves – $199 Each
Plumbing Manifold & Actuators for Spill Over Spa to controlled with Automation – $650