Your swimming pool filtering system is essential to removing dirt and debris from your swimming pool. Anything that might be floating in your (e.g. leaves, flowers, or insects) will be caught by your swimming pools filter system as it moves through pool equipment. Think of your swimming pool filter system as your pool's kidney.
Every Performance Pool & Spa swimming pool package comes with a sand filter system included, sized to meet the needs of your swimming pool. We use sand filters because they are simple, effective, require little attention, and filter the best if used with Glass Filter Media.
How Sand Filters Work
As water moves through the filter, dirt accumulates in the spaces between the sand particles, causing the pressure in the vessel to rise as water finds it harder to pass through. This signals you to clean or "backwash" the filter. Simply reverse the water flow and "knock out" the dirt. What could be simpler?
Since Performance Pool & Spa sizes the filters correctly, you will only have to clean out your filter once every 4 – 6 weeks.We UseTagelus® Sand Filter Systems
Tagelus® filters use a unique, patented process to create a one-piece, fiberglass reinforced tank with superior strength and durability. Tagelus® filters are equipped with a six-position, clamp style, top-mounted multiport valve.Special lateral design provides superior flow characteristics long filter cycles for economical operation
Maximum Operating Pressure 50 psi
Combination water and sand drain makes servicing and winterizing fast and easy
40, 50, and 60D models standard with plastic clamp
Sand Filter System Prices:
Tagelus 50 – $399
Tagelus 60 – $669
Tagelus 100 – $798
How Cartridge Filters Work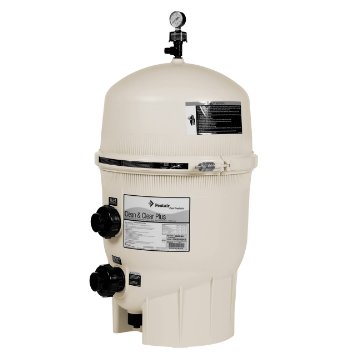 Cartridge filters use a paper filter to catch items as water passes through it. When the cartridge gets clogged up you have to take it out and rinse it to get all the debris out. Cartridge filters generally last 1-2 pool seasons and then they need to get replaced.While cartridge filters aren't typically used by Performance Pool & Spa, they do have their uses. Certain fountains require cartridge filters as they create less turbulence. Clean & Clear® Plus Filters have a corrosion-resistant, injection molded filter tank for superior strength and reliability. The cartridge assembly uses four easy to clean, non-woven, polyester cartridges. Each filter is supplied with a bulkhead union set for easy installation.
Cartridge Filter System Prices:
CCP 240 sq.ft – $599
CCP 320 sq.ft – $699
CCP420 sq.ft – $828