By all standards, the fiberglass FUSION line expands the boundaries of pool design. With these modular options, you can now integrate Fusion into your backyard setting according to your own personal vision. The result is a visually stunning ambience that never fails to inspire.
Picasso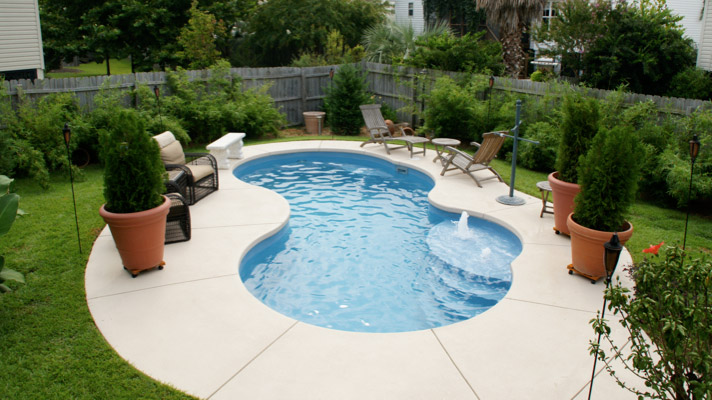 The Picasso is truly a work of art. The oversized entry step is elegant and can be upgraded with bubblers to provide a magnificent water feature that you can swim in.As part of the Fusion line, the Picasso has many add on options including tanning ledges, custom spas, and more.
Dimensions:
24′ 1″ x 12′ 2″
Depth:
3′ 9″ to 5′ 4″
Gallons:
≈5,600
Type:
Fusion
Class:
FreeForm
Size:
Small
Europa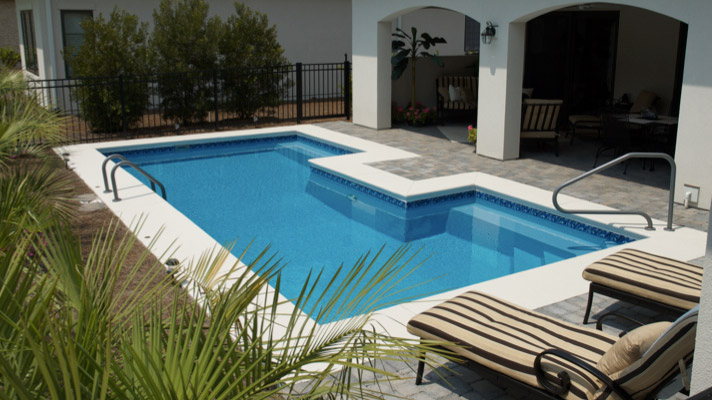 The Europa is a magical fiberglass pool with over 30 pool, spa, tanning ledge and fountain pan combinations. The center-deep design and bench seating down the entire side will have you using 100% of this pool.The central inset is a perfect fit for the Meridian Spa or a Fountain too! Get crazy-creative & put 2 pools together. . .or add an huge tanning ledge and make a water splash park.Let your imagination soar!
Dimensions: 28′ x 14′
Depth: 3′ 10″ to 5′ 4″
Gallons: ≈9,200
Type: Fusion
Class: FreeForm
Size: Medium
Gemini
Captivating. Exquisite. Picture-Perfect.These might be words that come to mind when viewing the Gemini.Voted the #1 in-ground pool Trilogy offers, the modular components give you the freedom to pursue your vision for expansion.
Add a tanning ledge with spillways for an instant oasis. Bubblers enhance the embiance. Consider a spa and leave the stress behind.
The options are endless!
Dimensions: 32′ 6″ x 16′
Depth: 3′ 9″ to 5′ 4″
Gallons: ≈9,000
Type: Fusion
Class: FreeForm
Size: Large
Genesis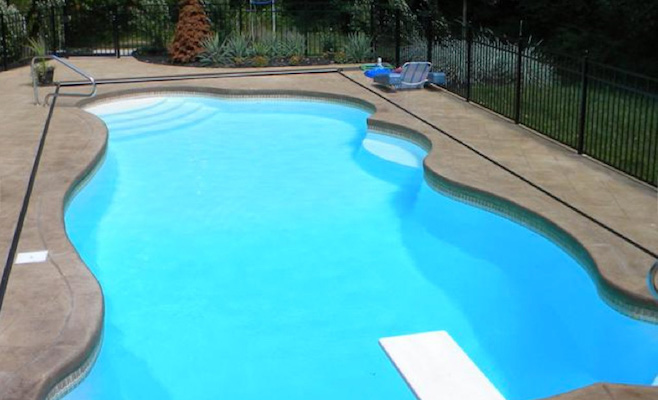 Large Enough for the Whole Family… Invite the Neighbors Too!For the homeowner looking for an extra large, freeform pool that also has deep water, Trilogy is proud to offer the Genesis.Capable of accepting a 6-foot jump board, the Genesis also sports the largest shallow end of any deep-well fiberglass pool on the market today!
Bench seating and swimouts allow for maximum utility of this beautiful pool.
Dimensions: 40′ 2″ x 16′
Depth: 3′ 10″ to 8′ 6″
Gallons: ≈20,000
Type: Fusion
Class: FreeForm
Size: Large
Hyperion
The Hyperion is a stately example of classic design.Majestic and spacious step entryways and bench seating create a picture-perfect waterscape. It's also a great pool for swimming laps.Expand your custom design by adding a semi-circular tanning ledge with water features spilling over into the pool.
To view all of the Hyperion variations, click on the Line Drawings icon below.
Dimensions: 43′ 8″ x 16′
Depth: 3′ 9″ to 5′ 4″
Gallons: ≈17,300
Type: Fusion
Class: FreeForm
Size: Large
Regulus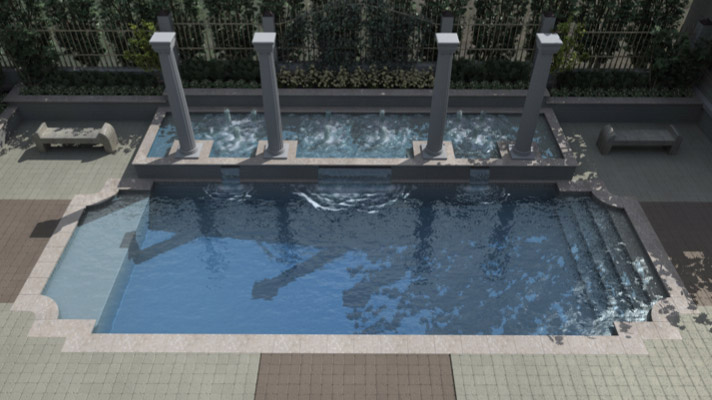 With it's massive entry steps and scalloped corners, the Regulus fiberglass pool is sure to be a crowd-pleaser.Many add the bench to the other end—but did you know that you could opt for a tanning ledge instead?What's better than sitting on your lounge chair . . .surrounded by water? We think not much!
As with the other pools in the Fusion line, the Regulus has many modular components. Let your creative side be the guide and design the pool of your dreams!
Dimensions: 43′ 8″ x 16′
Depth: 3′ 9″ to 5′ 4″
Gallons: ≈17,400
Type: Fusion
Class: FreeForm
Size: Large
Rembrandt
The Rembrandt is a true work of art and another industry first for in-ground fiberglass swimming pools.The modularity of the Rembrandt allows for Double Step Entry, or Step Entry on one side with Bench & Tabletop on the other side.Cascading steps lead to a 4' deep shallow end. Outfit the circular entry with a couple of bubblers and let the party begin!
Ever think about where to put those drinks while in the pool? Think no further—add the tabletop and problem solved! The table can be made out of the solid surface pool finishes, or choose from one of two mosaic motifs.
Dimensions: 39′ 2″ x 16′(with 2 ends)
Depth: 4′ 3″ to 5′ 4″
Gallons: ≈13,300
Type: Fusion
Class: FreeForm
Size: Large
Synergy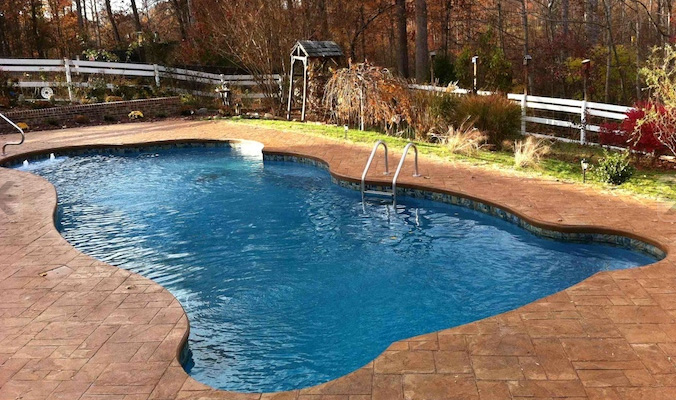 Swim Lane, check!
Lots of Seating, check!
Freeform Shape to Compliment Your Home, check!The Synergy is a shallower version of its big brother, the Genesis.Identical in every regard, except depth. This 6′ 3″ deep model provides ample room for water volleyball, basketball, and aquatic exercise.
There's room for your whole family AND the neighbors in this awesome freeform model!
Ready for your pool party? The Synergy is!
Dimensions: 40′ 2″ x 16′
Depth: 3′ 10″ to 6′ 3″
Gallons: ≈18,000
Type: Fusion
Class: FreeForm
Size: Large
Helios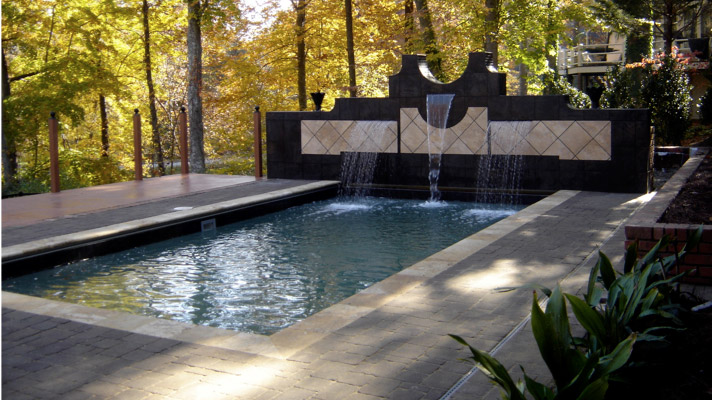 Fiberglass Pools like the Helios are excellent for adding Water Features and Tanning Ledges to.Just like the name implies, the Helios is the place for all of you sun worshipers!The compact rectangular shape lends to clean lines and lots of swim area.
Get some friends together and play a game of water volleyball or relax the day away on your float.
Dimensions: 23′ x 12′
Depth: 3′ 9″ to 5′ 4″
Gallons: ≈7,500
Type: Fusion
Class: Rectangular
Size: Small