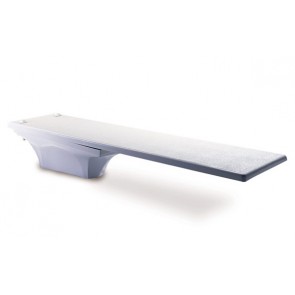 Performance Pool & Spa offers diving boards to all our clients in Lincoln Nebraska and surrounding areas. Whether you need a replacement diving board for the new pool season, or are looking to add a new feature to your pool, we've got you covered. Not all swimming pools can or should have a diving board, please see our guidelines below to determine if your pool is a good fit.
Is My Pool Right for a Diving Board?
Performance Pool can make virtually any swimming pool we build a diving pool, but remember for pools that are less than 32′, your shallow end will be greatly sacrificed!
Typically, if your swimming pool is at least 32′ long and 8′ deep, we would be very comfortable considering this a diving pool.
If your pool is less than 32′ long and 6′ deep or less at the deep end, we'd consider this a non-diving pool, and is not a great fit for a diving board.