Performance Pool & Spa offers the greatest safety you can have around your swimming pool: an automatic pool cover. These covers automatically open and close your pool with a simple touch of a button. We offer CoverStar and APC (Automatic Pool Covers) pool covers, the leaders in automatic in-ground swimming pool covers. Not only will your pool cover, cover your pool in less than 60 seconds, it also provides a safe environment for children. Auto covers can hold up to 485 lbs. in a 5′ radius. Strong enough for grown adults to stand on!
Each Performance Pool Automatic Pool Cover is Custom
Each auto cover we provide is custom-made to your pool's exact requirements. Think of it as your pool's own fingerprint.
Benefits of Your Automatic Pool Cover
Saves you 70% in Pool Operating Costs
Cuts Filter and Pump Times
Cuts Evaporation up-to 98%
Adds 5 – 15 Degrees of Solar Heat (*With A Dark Colored Cover*)
Under Track Pool Cover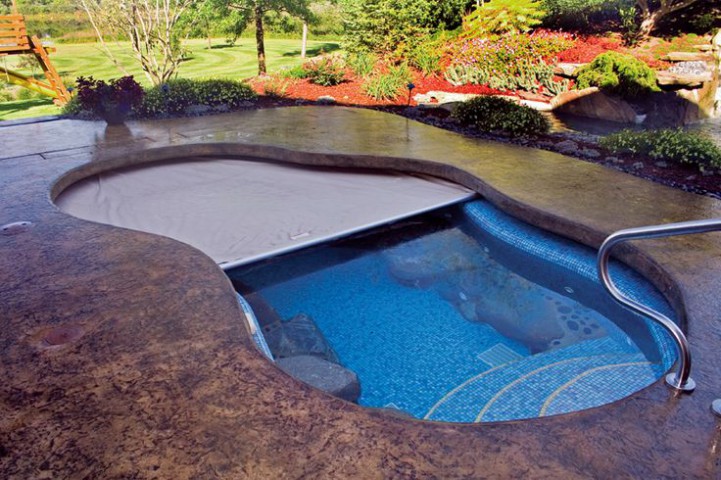 These auto covers are the most popular and have the cleanest look. These covers run in the swimming pool coping just under the concrete on any rectangle swimming pool..
Indoor Pools :: Due to their effective nature of cutting down evaporation, you won't have to run your pool's HVAC system as much, cutting down significantly on electricity costs. Also, we recommend automatic pool covers on all indoor pools as well.
Top Track Pool Cover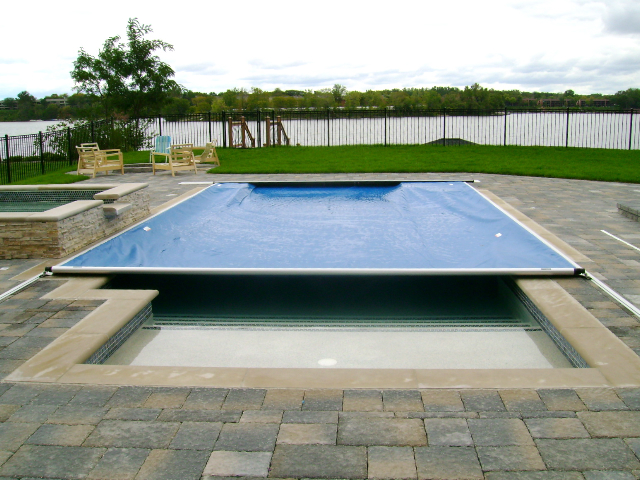 Top track auto pool covers are used when you don't have a rectangle pool and still want an auto cover. Performance Pool & Spa runs tracks in the concrete so that your swimming pool will be completely covered. The tracking for top track auto covers gets placed just outside the widest part of the pool and runs the entire length of the pool. So, for example, if your free-form pool is 16′ x 32′, your actual tracking will be 18′ x 37′.
Pool-In-Pool Auto Cover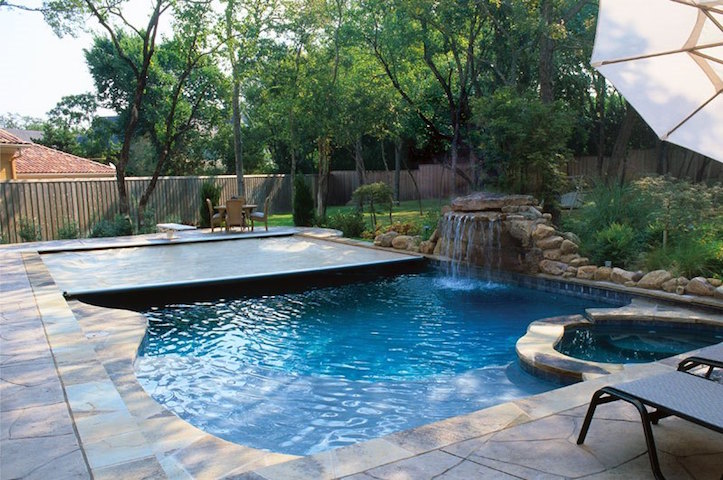 A Pool-In-Pool auto cover system creates a rectangle step all the way around your non-rectangle swimming pool. The tracking for the auto cover is simply run under the step so that it is concealed and has a clean look. Pool 'n Pool auto cover systems give you all the benefits of an undertrack system, even though you don't have a rectangle pool. While each Pool 'n Pool system is unique, the pricing is fairly close to that of a standard under track system.