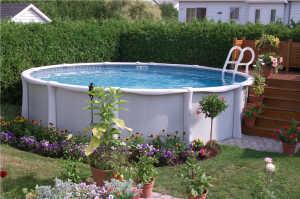 Above Ground Swimming Pools are a simple and economical way to get that new pool you've been wanting. At Performance Pool & Spa, we sell two types of above ground swimming pools.
Regardless of which above ground pool you decide to go with, rest assured that Performance Pool does all of our own installs. We don't subcontract out any of the installation, it is all done in-house.
Standard Above Ground Pools
Standard above ground pools are the pools you have seen in every neighborhood for the last 20 years. These pools, bar none, are the most economical way to start enjoying a swimming pool in your backyard.
Performance Pool offers one of the best standard above ground pool packages Lincoln Nebraska and surrounding areas. Not only do you get a full Performance Pool & Spa installation (never subcontracted), but you get several upgraded features as standard.
We also offer several package upgrades that will make pool maintenance easier in the long run, such as a vermiculite pool bottom, Ranger Auto-Cleaner, and even a salt water system!
Standard Above Ground Pool Package includes:
Sub Panel Assembly
Beaded Liner with Bead Receiver
Widemouth Skimmer and Water Return
"A" Frame Ladder
Sand Filter with Pump
Maintenance Kit
TelePole
Sand Bottom